4 easy steps: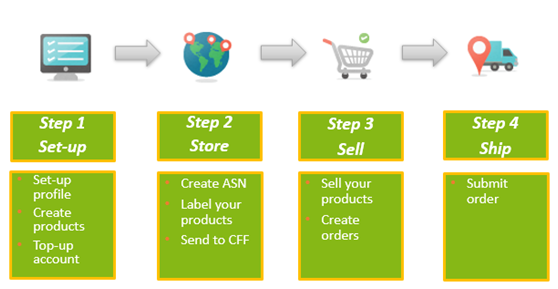 Step 1: Set-up
After registering on CFF website www.chinafulfil.com, you will get your CFF account. You need to active the CFF account by submitting the copy of your business license or passport. Then apply for the warehouse fulfillment Service. You'll be able to create products after that. To create the products, you just need to provide product information such as name of the product, SKU, dimension, weight, image etc. You need top-up your account before sending products to us.

Step 2: Store
Before sending your products to CFF. You must create an ASN (Advanced Shipping Notice) to notify us of your incoming stocks. You can print the ASN packing list and insert it into your product cartons. Packing lists and inventory counts should be matched with the products to be sent to us. Please ensure that the ASN number is placed or attached to the cover of the carton and then dispatch it to our warehouses. We will store your products and also update the inventory after receiving your products.

Step 3: Sell
Whenever you close a sale, you can manually create a new order in our system. You have the option to batch upload the orders through a csv file. You can also choose to integrate with our system via the Web Service APIs.

Step 4: Ship
You need to submit the order after reviewing it. Then we will handle all the rest for you. We'll pick&pack and ship directly to your customers all over the world.